Flip Over Gooseneck Hitch
---
Flip Over Gooseneck Hitch
Flip-Over Gooseneck Hitches: Simply the Best and Easiest to Install!
Product Information:
The Flip-Over Ball Gooseneck Hitch converts your pickup bed to a smooth bed in seconds by just rotating the handle and flipping the ball over. A Flip-Over Ball hitch makes it an easy, hassle-free transition: you do not have to try to hook or catch a small handle to release or lock the ball, and there are no corners to collect dirt that can freeze the ball in the socket.

The Flip-Over Gooseneck Hitch is a 30,000 GVW hitch that comes with a standard gooseneck 2-5/16" ball. The gooseneck ball can rotate in the socket to keep it clean and save the ball from a bad coupler; rotate the handle 90 degrees to release the ball, turn it over for a level bed turn the handle back and it locks it in place. The locking mechanism has a stainless steel pin and spring.
Flip-Over Gooseneck Hitches are bolted together using existing holes, and are installed without loosening or removing the bed. Flip-Over Gooseneck Hitches are designed and manufactured by PopUp Towing Products, and are vehicle specific for a perfect fit and ease of installation.
Product Specifications:
This is a complete hitch including a 2-5/16" ball, safety chain spring-loaded U-bolts, all hardware and easy read instructions. The Flip-Over gooseneck hitch only requires a 3-1/2 inch round hole in your pickup bed.

Product Installation:
Just rotate the handle and flip the ball over

Hassle-free retaining pin mechanism

2-5/16" ball rotates in socket for extended life

Stainless steel retaining pin and spring

Includes spring loaded safety chain anchors

Bolt-in installation with only a 3-1/2" hole in truck bed

Grade 5 and 8 installation hardware provided

No fabrication or welding

Installs with truck bed in place

30,000 lbs. Gross Trailer Weight

7,500 lbs. Gross Tongue Weight

100% complete
Accessories:
Many accessories are available for the Flip-Over Gooseneck Hitch, such as a 4 inch off-set ball, high rise ball, 3 inch gooseneck ball, kingpin for an inverted 5th wheel hitch, and more. Click here for more information.
Flip-Over Gooseneck Hitches: strong, time proven, and engineered with special emphasis for ease of installation!
Free Shipping to the Lower 48 States!
An order recieved by noon central std time ships the same business day.

Application Chart: click to find the Model I Need?
How it Works:
The Flip-Over gooseneck hitch by PopUp Gooseneck Hitch is locked in the one-piece ball socket with a spring loaded stainless steel pin. To invert the gooseneck ball, just reach into the driver side rear wheel well and rotate the actuating rod 90 degrees. This cams the retaining pin to the open position. Invert the ball (turn over the ball), and rotate the actuating rod back to its original locked position. That`s all there is to it.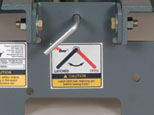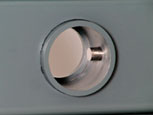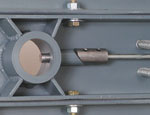 The Flip-Over gooseneck hitch is not only easy - it`s hassle-free. The ball socket is machined from a solid piece of high-grade steel to insure strength and years of service. The retaining pin is machined from stainless steel so it will not rust and seize. The pin is held securely in the locked position by a strong stainless steel spring. When the actuating rod is rotated 90 degrees a cam retracts the retaining pin to its open position so the gooseneck ball can be inverted. When the actuating rod is returned to its locked position - the retaining pin securely locks the gooseneck ball in its socket - extending ball and coupler life.
Tough Enough:
- Flip-Over gooseneck hitches are rated at 7,500 lbs. maximum tongue weight and 30,000 lbs. maximum trailer weight.
- Flip-Over gooseneck components bolt together with the truck providing an extremely strong and reliable towing system. And you get this comforting strength with only a 3-1/2" hole in the truck bed floor. Flip-Over gooseneck hitches are built specifically for each truck model – so they are a perfect fit.
**For safe towing, spring loaded U-bolts (which are level with the bed floor when not in use) are provided for anchoring Safety Chains.
Designed and Built for Strength:
Front and Rear Cross Members are fabricated from 2" X 2.5" X .375" angle. (1" X 2" steel bar is used for the Front Cross Member in Dodge and for the Rear Cross Member in new body style Chevy and GMC Silverado/Sierra.) Cross Members span and sit on top of the pickup frame, thereby transferring all trailer tongue weight directly to the frame of the tow vehicle.
The gooseneck hitch Center Section, containing the Flip-Over Ball hitch ball mechanism, is fabricated in a 24" long channel formed from 0.25" steel plate. The Center Section assembly is trussed to accommodate extreme vertical and lateral loading. Bolting the Center Section in place between the Cross Members creates a vertical load capacity that greatly exceeds the maximum rear axle load rating of the pickup trucks Flip-Over Ball hitches are designed for.
Flip-Over gooseneck Frame Plates, which secure the hitch to the tow vehicle, bolt to the Front and Rear Cross Members and use existing frame holes in the web of the frame to bolt to the outside of the truck frame.
Flip-Over gooseneck hitches are designed and built to provide years of trouble-free service the cold-finish steel hitch ball is plated with bright yellow chromate.
Easy Installation:
The installed gooseneck hitch spans the truck frame under the bed floor bolting on the outside of the frame rails using existing holes. It is not necessary to loosen the bed box for installation, and no welding or fabrication is required.
They work fine with bed liners: drop-in or spray-in, and require on a 3-1/2" hole in the bed box floor.
Everything is provided with the Flip-Over gooseneck hitch system, including all installation hardware and useful installation instructions. Some older vehicle hitch models may require frame drilling.
Installation time is about 2 hours.